Nieuws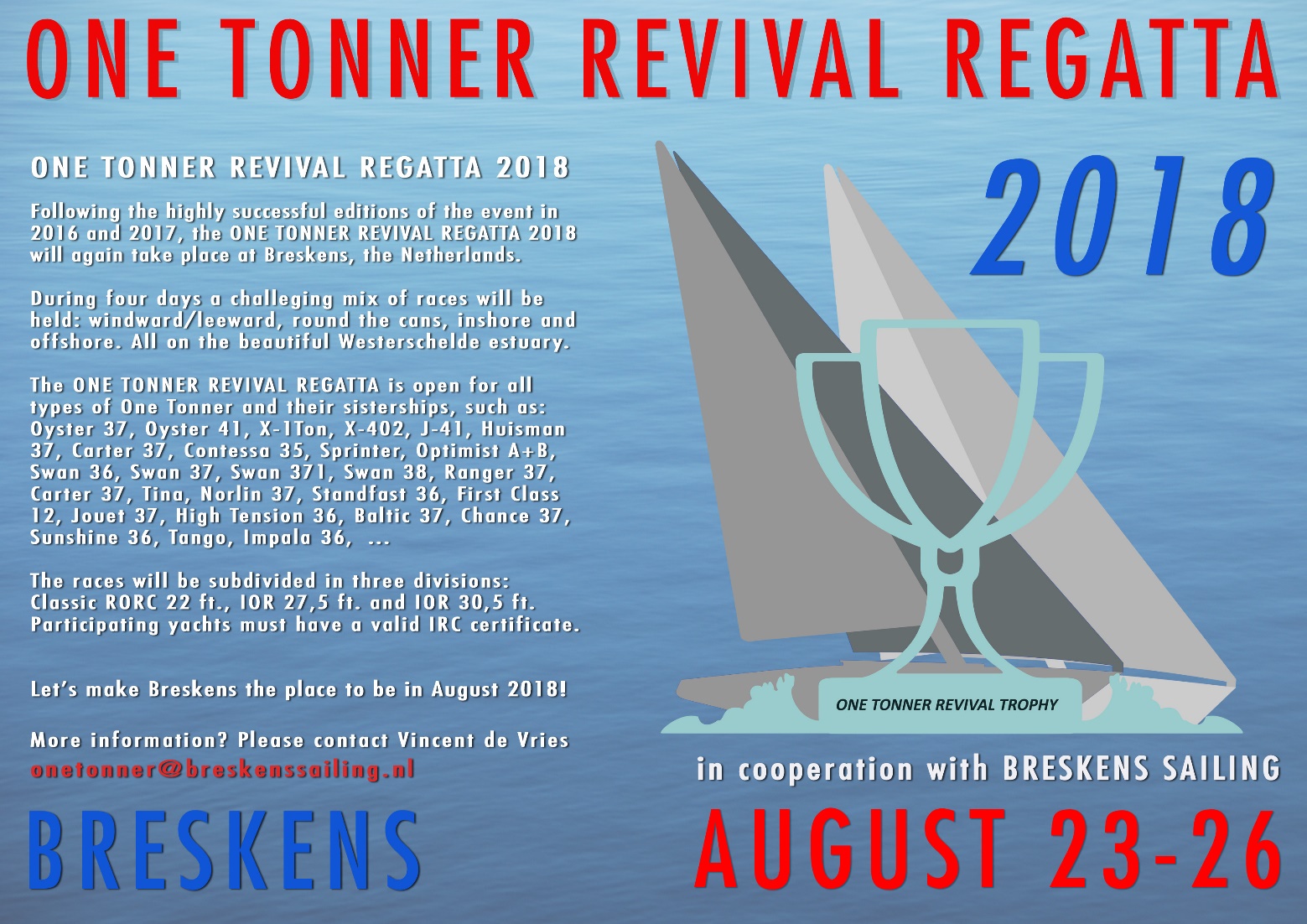 11 mei 2018
One Tonner Revival Regatta
Revival of the legendary One Tonners.
The "One Ton Cup" is a trophy. It was awarded to the winner of a sailing competition, created in 1899 by the Cercle de la Voile de Paris (CVP).
These regattas were the beginning of a number of races between one-tonner sailing yachts according to the "Godinet rule" of 1892 (in short terms: the contents of the hull below the waterline should have a capacity of 1 ton (1000 l.). This "Coupe Internationale du Cercle de la Voile de Paris", as its original name is, has been raced for since 1907 until 1962 in the International 6 Metre class. Except for four years (1920-1923).
In 1965 the One Ton Cup was included in the scope of ocean racing. This, as a result of Jean Peytel's (member of CVP) initiative. The One Ton Cup was then raced according the RORC rules, with a maximum rating of 22 ft., a so called "level rating system".
In the following years the yachts were designed and built dedicated for One Ton Cup, optimized to the rating of RORC 22 ft. The long keel disappeared, yachts with a deep fin keel and separate rudder appeared. Depending on chosen location and the expected weather situation, designs were made and yachts were built accordingly.
A range of designs, varying from ultra-light weather yachts to heavy weather yachts were built.
Famous designers, such as Dick Carter, Olin Stephens, Ricus van de Stadt and Britton Chance Jr. made their marks. Their designs all measuring an average length of 36 ft.
Until 1971 the One Ton Cup was sailed under the RORC rating system. After this year, RORC in collaboration with the American CCA, introduced the International Offshore Rule "IOR".
For the first time a dedicated computer program (Fortran) was written. The introduction of this computer program challenged young yacht designers as: Doug Peterson, Ron Holland, Bruce Farr, Stephen Jones, Ed Dubois and Koos de Ridder. These guys were young, highly technical skilled designers, aiming at finding the extremes of the rating system.
During the years the IOR encouraged wide short boats with limited stability. A narrow waterline and large beam on deck, combined with a high centre of gravity, meant that crew weight provided a significant proportion of stability at small heel angles. Also boats had a relatively low angle off vanishing stability. Up to 1983 the yachts were bound to a level rating of IOR 27.5 ft.
In the early eighties the number of participants in the One Ton Cup declined. In 1983 the rating was increased from 27.5 up to 30.5 ft. One Tonners grew from an average length of 36 ft. up to 41 ft. These modern One Tonners could both participate in One Ton Cup as well as become the smallest yacht (lowest rating) of an Admirals Cup team. The yachts developed into racing machines. Carbon fibre and titanium were introduced and became common. In this period of time a new generation of yacht designers started their careers. Designers as Niels Jeppesen, Philip Briand, Daniël Andrieu, Tony Castro and Rolf Vrolijk.
30.5 ft. One Tonners sailed the last One Ton Cup in 1994.
Over the years 1965 - 1994 many hundreds of one Tonners and their sister-ships have been built around the globe. A lot of them are still in thriving condition. Some being used as family cruisers and others as racers. Unfortunately, there are also those that are waiting for better times in sheds, old boatyards or simply in a farmer's field.
As organisers of the One Tonner Revival Regatta we are very eager to get as many One Tonners as possible back on the water, preferably racing. Our aim is seeing the One Tonner Revival Regatta evolve from a local initiative into a Western-European regatta and eventually a worldwide sailing event.